Investing in technology has always been one of the keystones of EMC. For this reason, to respond to a growing market demand, we have created and produced the new machine FINEBRUSH 1350 – K. The new wood and lacquer brushing machine. Our Technical Department immediately got to work and, in a short time, studied and created a version that has all the technical and economic characteristics suited to your needs.
WOOD & LACQUER BRUSHING
Before going into the details of the technical characteristics of the FINEBRUSH 1350 K, let's focus on the definition of wood brushing. This process consists in modifying the surfaces highlighting the wood grain. Giving the product a natural appearance. The peculiarity of this type of woodworking is the brushes with which it is equipped. It allows to polish and clean wooden surfaces. These are different depending on the type of material to be processed.
TECHNICAL FEATURES
FINEBRUSH 1350 – K is an automatic sander for profiled parts. It is a machine suitable for sanding wooden profiles, stain, base coat, filler. Combining disc and roller sanding units.
Min length of the pieces held under the pressure rollers: 340 mm
Adjustment of the independent working height of the brush groups
Diameter of tubular brushes, max: 250 mm
Number of disc brushes: 20x
Brushes oscillation by " gooseneck mechanical system "
All motors are controlled by inverters
Control of groups by analogue control panel
All the groups can turn clockwise and anti-clockwise, thus using different abrasive grits, for wood and for paint. The working pressure is motorized and independent.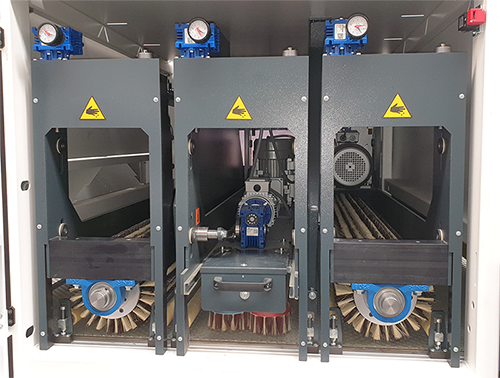 WHAT ARE THE BENEFITS?
When you have to work pieces already assembled, for example a window, you have the possibility to carry out the sanding process in a single step, despite the fact that there are two directions of the wood grain. In addition, compared to the classic calibrating machines, the Finebrush 1350 K is able to sand wood surfaces having different thicknesses, so even slightly more complex pieces can be processed, ensuring an excellent result.