The woodworking machines granted the woodworking industries to obtain perfect precision, and high-quality standards in production, as well as speeding up production times. As a result of that, the end-user will have a good quantity of semi-finished ready products for furniture, windows, frames, doors, furnishing objects, tables, chairs and much more.
In recent years, the installation of automatic woodworking machines has led to a big evolution in production departments in large industry, which today can count on innovative tools and programs that improve processing and production procedures.
For large companies, as well as for small and medium-sized enterprises, it is essential to stay up-to-date on new technologies, ensuring to be competitive and permitting their good level of quality of products. The implementation of software, control panels and enhanced level equipment offers various advantages; reducing costs, increasing productivity, as well as high. Precision.
TYPES OF PROCESSING
The woodworking that can be performed with our machines are many:
Calibration and sanding
Brushing and rustic
Polishing and buffing
Grooving and sectioning (multi-blade)
Specific processing for customized solutions
---
Now let's see in detail what is obtained from each individual manufacturing process and which machines to use:
CALIBRATION AND SANDING
Calibration means the process in which a thin part of surface's panel is removed, in order to reduce its thickness, assuring that it is identical from beginning to end. By sanding we mean the process to make a smooth panel surface ready and finised.
Machines that carry out these processes:
BRUSHING AND RUSTIC FINISHING
The brushing process is to improve the surface of the wood, highlighting its grain, and textures. The rustic process, on the other hand, consists in giving an antique look to the wood, ideal for some types of products. Its highlight the hardest part of the wood (the top of grain), to simulate the wear of the material due to time and to emphasize the quality of the wood.
Machines that carry out these processes:
POLISHING AND BUFFING
Polishing and buffing are called "super-finishing" processes, generally used in the furniture industry to make a lacquered wood surface more shiny and brilliant.
Machines that carry out these processes:
 GROOVING AND SAW BLADE (Multi-blade)
In basic version or with customized accessories, panel saws allow to be more flexible, quickly and economic thanks to accurate cuts on all panels in woods and derivates materials.
Machine that carries out these processes: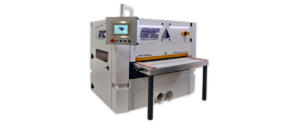 Multiblade 1350
PERSONALIZED SOLUTIONS
All the processes that require polishing, shaping, multidirectional super-finishing and much more, specific for customer request, are part of the customized solutions.
PLANAR SYSTEM
To all these processes we added the Planar System, a revolutionary sanding system created by EMC Italy that has changed the methods of surface finishing. The PLANAR SYSTEM has no production limits, as all our customers who have chosen it says that it does not require particular training, thanks to the intuitive and simple structure. The result given are flatness, compactness, speed, simplicity and economy. All that comes out of the Plano System, a machine created and patented by EMC.
Watch the video interview held by the Founder of EMC – Ivano Coveri, and by Stefano Callegaro – Director of the Plano System project, during the participation in LIGNA 2019, the reference fair for the woodworking and treatment machinery sector.
WHICH MACHINE TO CHOOSE?
The constant and homogeneous finish on the entire work surface makes EMC machines perfect for any type of processing. However, the choice will depend on some specific factors such as the size of the pieces to be processed, the width, the type of finishing.
Are you looking for woodworking machines?