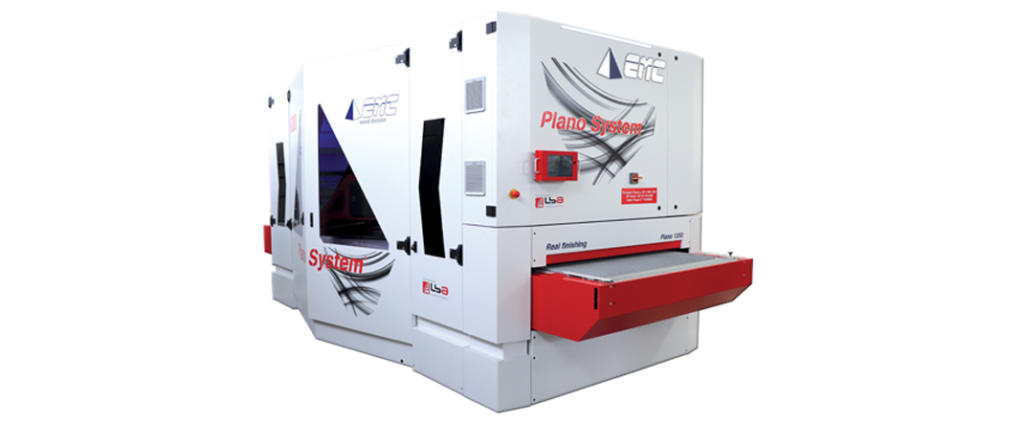 VERSATILE WORKING MACHINING CENTER FOR MULTIDIRECTIONAL SUPERFINISHING
Superfinishing is obtained by combining the technology of electronic pads with the continuos rotation of the abrasive belt.
Superfining rotating abrasive belt group with double electronic sectioned pad unit.
Vacuum table divided in the independent sections controlled and synchronized.
Carousel rotation servo-controlled with the possibility of standstill at any angular position.
Rotating speed adjustable from 0,1 to 40 RPM.
Motorized doors open, sliding and foldaway.
Standard technical specifications:
Constant PASS LINE, FIX work-table 910mm from floor;
Industrial PC-PLC technology, high resolution Touch Screen 15,4″;
Feeding speed, inverter m/min 3 to 20;
Hiper Finishing abrasive belt length mm 4.960;
Chevron belt length mm 4.560;
Carousel speed control RPM 0,1 to 40;
Nr. 2 Electronic segmented pads synchronized (pitch) mm 18;
Automatic pads pressure control (automatic & programmable) bar 0-4;
Vacuum system inside machine, fan controlled by inverter Kw 4;
Main abrasive belt motor Kw 11;
Double cleaning oscillating belt blowers Nlit/min 650 (x2);
Software and connections for telemetry assistance Customer-EMC via internet;
Motorized linear sliding doors (total stroke) mm 2.100