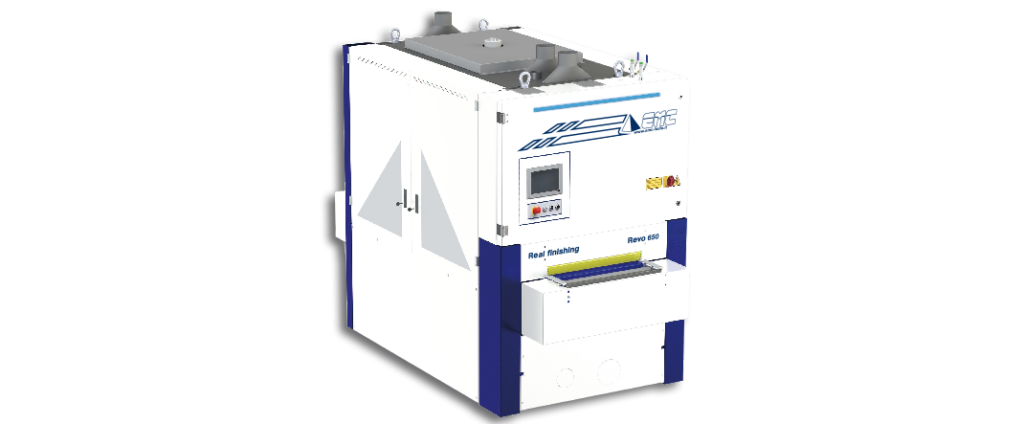 VERSATILE WORKING MACHINING CENTER FOR MULTIDIRECTIONAL SUPERFINISHING
Superfinishing is obtained by combining the technology of pneumatic pads with the continuous rotation of the abrasive belt.
Superfinshing rotating abrasive belt group with circular pneumatic pad.
Vacuum table.
Carousel rotation servo-controlled with the possibility of standstill at any angular position.
Rotating speed adjustable from 1 to 55 RPM.
Standard technical specifications:
– Industrial PC-PLC technology, high resolution Touch Screen 7″;
– Feeding speed, inverter m/min 3 to 17;
– Carousel abrasive belt length mm 720×2620;
– Roller abrasive belt length mm 670×2200;
– Carousel speed control RPM 1 to 55;
– Nr. 1 Circular Pneumatic pad;
– Vacuum system inside machine, fan controlled by inverter Kw 4;
– Independent abrasive belt motor + Inverter;
– Cleaning oscillating belt blowers
| | |
| --- | --- |
| WORKING WIDTH [MM]: | 650 |
| WORKING THICKNESS MIN-MAX [MM]: | 3:180mm |